Perpetual members of the Shrine of St. Jude share in the graces and spiritual benefits of the Masses, prayers, and good works of every member of the Province of St. Albert the Great in addition to having their intentions remembered at each Shrine Mass in perpetuity. In acknowledgement of their perpetual enrollment, these patrons receive a memorial card.
We now offer to different cards:
$25 Commemorative card
$40 Large (8.5″ x 11″) commemorative image suitable for framing (N.B. frame not included)
This is the inside of the new commemorative card.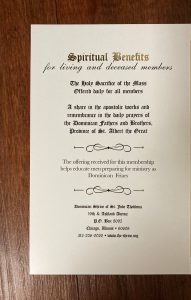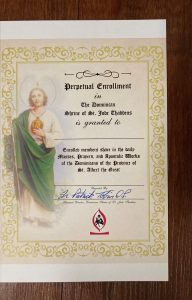 This is the new large commemorative card.