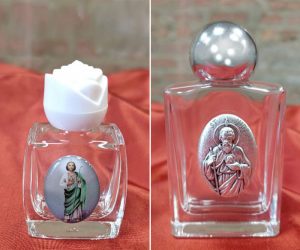 New options!  In addition to our 0.5oz glass bottle with a plastic medallion of St. Jude we are also offering a 2oz glass bottle with a metal medallion of St. Jude.
Each decorative bottle contains oil that has been blessed using the Relic of St. Jude at the Shrine. From the earliest days of Christianity, the popular (from populus meaning "of the people") practice of using oil which had been in contact with the saints' remains was present in the church. We continue this ancient and venerable practice today with the use of St. Jude Oil. This is a practice that, like all sacramentals, can be performed by the laity, even at home as another way of bringing the incarnational or sensate aspects of the saints to the people.
We are not selling this blessed article but asking a suggested donation.  In fact, the donation covers the cost of the glass bottle emblazoned with the image of St. Jude as well as a contribution toward postage.
The prayer commonly used with this blessing is: "Through the powerful intercession of St. Jude, apostle and martyr, may you be delivered for all hopelessness and despair and may God grant you every healing of body and soul, in the name of the Father+, and of the Son, and of the Holy Spirit." (The proper gesture for making the sign of the Cross for lay people during a blessing is to make a small Cross on the forehead of the person being blessed.)  A printed copy of the blessing is included with each bottle of oil. A printable card is also found here should you wish to download and print it yourself.
---
The Shrine of St. Jude strives to provide its members with bottles of St. Jude Oil that are of the highest quality, yet also economical.  We charge a flat fee of $5 per order for shipping and handling.
---
N.B. No offering is required for prayer. If you are unable to make a donation at this time, you may submit a prayer request through our Request a Prayer form.