Shrine Staff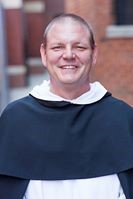 Rev. Michail P. Ford, O.P. has served as the Director of the Dominican Shrine of St. Jude Thaddeus is Chicago, IL from 2013 to 2018, and again since July of 2021.
Outside of the Shrine's normal novena schedule, Fr. Mike travels all over the United States teaching about Catholic devotions.  His topics include things like veneration of relics and novenas.  He has done presentations at parishes, universities, high schools, and numerous grade schools with the hopes of raising awareness of this wonderful and often overlooked part of our Catholic heritage.  He also presents on a number of subjects ranging from general spirituality to more focused types including Dominican, Franciscan spirituality.
Fr. Ford was ordained in 2010 and has served the Aquinas Newman Center (Purdue University), St. Thomas More Newman Center (University of MO. – Mizzou), and St. Vincent Ferrer Parish in River Forest, IL.  He earned two Master's degrees, an MA in Theology with concentrations on spirituality and Thomistic studies and a Master of Divinity, from the Aquinas Institute of Theology in St. Louis, MO in 2010.  Prior to entering the Dominican Order, Fr. Mike had a successful 10-year career as a corporate training manager after earning a B.S.B.A. in management from the University of Central Missouri in 1992.

Gracie Alfaro is the longest serving member of the Shrine staff having started out in the Shrine Gift Shop in 1990 and then moved through just about every aspect of Shrine operation over the years to the present. Gracie has long been the kind voice at the other end of the phone when members of the Shrine community have called the Shrine office. She is currently responsible for taking calls and processing the many requests for prayers, perpetual enrollments, masses, and St. Jude oil which the Shrine receives each day. She is also surprisingly shy.